Welcome to NIOD
NIOD Institute for War, Holocaust and Genocide Studies is a national and international centre of expertise for interdisciplinary research into the history of world wars, mass violence, and genocides, including their long-term social consequences. In addition, NIOD collects, preserves, and provides access to archives and collections.

The collection
NIOD provides access to archives and collections about the Second World War and provides government institutions and private individuals with information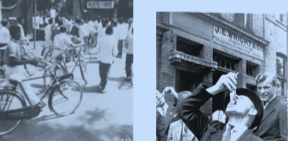 Visit NIOD
For the time being, the NIOD is open to a limited extent. The archive and the library for study and research are only accessible by appointment.
Opening hours study hall
Mo 13:00 - 17:30u
Tu - Fri 09:00 - 17:30u
Address
Herengracht 380
1016 CJ Amsterdam